When you move home or office, you've got enough to worry about. Psychologists say it's the single most stressful thing you can do, after bereavement, childbirth and divorce. So that's why we're launching a new service, specifically aimed at the needs of movers.
We'll help you get all your IT equipment set up in your new premises. We'll get your computers set up, sort out your printers, routers, wi-fi and internet. We'll connect up your TV, DVR, and games consoles. We'll ensure your phones are working, and whatever else you need. If you like, we'll take the opportunity to clean and tune up all your equipment while we're at it, and we'll re-install it in top-notch condition.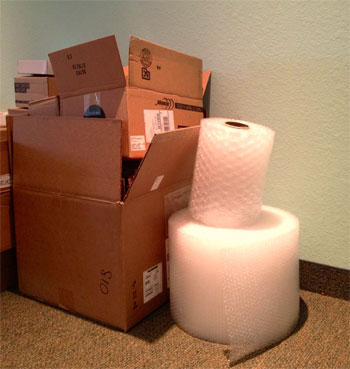 Sure, you could probably do all this yourself in a few hours, but you'll probably have other priorities on moving day. And if something's not working right when you put it all back together, that's one extra hassle you don't need. You don't want to be debugging computers or hunting for connectors when you're tired and can't remember what box anything's in.
So let us take care of this for you. We'll make sure all your equipment is up and running promptly, without you having to do a thing. If you have a home office, you'll be able to get right back to work fast. If you just want to kick back and watch a movie or play a game after a long day, or you need something to keep the kids occupied while you unpack, we can have that ready for you.
If you're moving, call us. We'll make it easier for you.