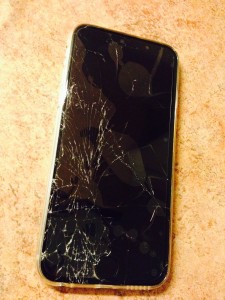 **This post contains affiliate links and I will be compensated if you make a purchase after clicking on my links.
Be honest. Have you ever used a phone with a cracked screen? About a week ago I was trying to carry too much at once from the car into our shop, and I sent my iPhone for a dive + 10-foot skid across the parking lot. A week later, I'm still using my phone with its cracked screen. Why?
I've got a protection plan with Verizon, but the deductible is a couple hundred bucks. (If I was out of warranty, I'd have been calling Rob the Phone Doctor.) But no. Being a technician, I thought it would be a good idea to go the self-repair route. So I contacted iCracked and got one of their self-repair kits. Last weekend I performed the install, only to find after fully assembling my phone that the screen iCracked sent me was DEFECTIVE! Ugh. That left my phone in an unusable state; no texts, no calls, nuttin. So the next evening, I "fixed" my phone by doing the iCracked repair again – this time putting my cracked screen right back on the phone. So now it works, barely, and it's a mess.
See? Even a trained technician can have a very bad day with tech.
Your scenario may not be like mine. But if you've ever used your phone with a cracked screen – you know who you are, I've seen you at Costco and at the gas station and in Publix – then you've engaged in unprotected text, a very risky activity. But all is not lost. As a part of their Stop the Spread of #unprotectedtext campaign, Gazelle is giving you the opportunity to bare your soul on their Facebook page!
In 50 words or less, share your story about how you broke your phone and why you continued to use it. Be sure to use hashtag #unprotectedtext and @Gazelle in your social post.
When you post, you'll be automatically entered to win a Gazelle Certified pre-owned iPhone or iPad.
Now is your opportunity to help stop this epidemic from spreading!