We've all been there.
A pop-up window comes up while we're surfing the web or checking our email. And the pop-up just won't go away!
Technically savvy users know how to break out of this situation. The rest of us are forced to abruptly power down the computer or call someone for assistance.
Sadly, in desperation a few unfortunate people even resort to calling the phone number on their pop-up.  (NEVER DO THIS!).
Now there is a solution: StopDat.
StopDat is a very simple program you can install on your Windows 10, 8, or 7 computer. Installing StopDat creates a simple button on your Windows taskbar that looks like this: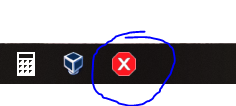 Now, the next time your computer gets locked up by one of these scammer pop-ups, press the StopDat button. After a moment, all your web browsers will be forcibly closed, and you should regain control of your computer.  No need for abrupt power downs or frantic calls to tech support. Now you can take care of this annoyance yourself – literally at the touch of a button.
StopDat is FREE to download, and is part of our ongoing anti-scammer efforts. If you'd like to express your appreciation for StopDat and help support our anti-scammer activities, we welcome you to use the donation button below. All donations will go toward expenses related to our anti-scammer efforts. Any and all surplus will be donated to a local charity.
Disclaimer
PRR Computers makes no guarantees regarding the use of this program. The owner of PRR Computers tested and tried the program on his own personal computer among many others with absolutely no side effects. This program uses commands built in to Windows to stop and/or restart certain processes on a computer using batch automation. It does not collect data from the computer nor does it transmit any data from the computer. It contains no commands or routines which can reasonably be construed as "malware," and can easily be uninstalled from the computer using Windows own Apps or Programs manager in the Control Panel.
Our assurances aside, it is important to understand that this program comes without any warranty, to the extent permitted by applicable law. Any action you take upon the information on this website or in this program's documentation is strictly at your own risk, and PRR Computers will not be liable for any losses or damages in connection with the use of this website or this computer program. By downloading this program, you agree to these terms and conditions.