When you're building a Web site, writing a blog post, putting together a newsletter, or creating any other form of document, it's so easy to grab images from around the Web. Obviously this leads to a lot of copyright theft, because you can't just take an image and use it. But even if you try to play by the rules, you can sometimes get caught out.
We try to be careful when we source our images. We normally start by searching for free images licensed under Creative Commons for commercial use. (Just to clarify, even though we're not selling the images, using them on a company site is considered commercial use.) Wikipedia is often a good source of images that are okay for us to use. If that fails, there are various repositories of stock images that are free to use, even for commercial purposes.
However, we recently discovered that one of the images we used an image on this blog turned out to belong to Getty Images and wasn't legal for us to use. This could have happened for one of several reasons:
It was deliberately stolen and placed into a free stock image library.
Someone legitimately purchased the right to use it, but then intentionally or unintentionally added a CC license instead of Getty's copyright when they published it. (For example, they may have had their Flickr settings set to automatically apply CC tags to all uploads, and uploaded Getty's image along with their own photos.)
In other words, simply because an image has a Creative Commons license, or is part of a free stock library, you cannot guarantee that it is not stolen or that the person has the right to make it available to you. Acting in good faith is not a legal defense – if you have used a copyrighted image without permission, you can be liable to pay a backdated license fee plus damages. Rights holders are becoming increasingly protective of their assets and litigious, and modern image search tools make it easy for them to track down unlicensed usage.
How do you protect yourself against accidental infringement?
The good news is that the there are tools you can use to check out whether an image is free to use. One solution is the online tool TinEye. If you find an image you want to use, TinEye will tell you where else it has been used online.
If you order the results by "oldest", this will give you a good idea who the original rights holder is. It's currently only in beta, so it's not 100% accurate, but it's a good start. TinEye indexes all the major stock image libraries, including Getty, Shutterstock, and rf123. If your image comes from one of those, you'll immediately be alerted and you'll know you can't just help yourself to it, no matter what the license claims. It'll also provide you with a link to the original rights holder's site so you can buy a legitimate license. If it comes from somewhere like Flickr, you can quickly check whether the owner has made it legal to use.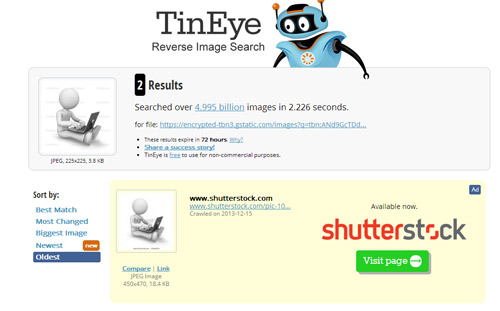 Where TinEye is really smart is that it detects variations to the original image. Cropping or flipping the picture, adding a watermark, changing the colors, or even using it in a composite image won't fool TinEye. (And don't be fooled into thinking that by changing a stock image you're creating a "new work" and so you can invoke "fair use" without infringing copyright. It doesn't work that way.)
It's also a handy tool for checking who else is using the image before you make your selection. If TinEye finds that 100,000 other sites are already using the same image, then maybe you want to look for something a little more original.
For Chrome users, there's a browser enhancement that allows you to check an image directly from a Web page just by right-clicking. Checking an image only takes a couple of seconds, and it could save you a lot of financial and legal pain.
It's free if you don't need to use it often: you can do up to 50 image searches a day.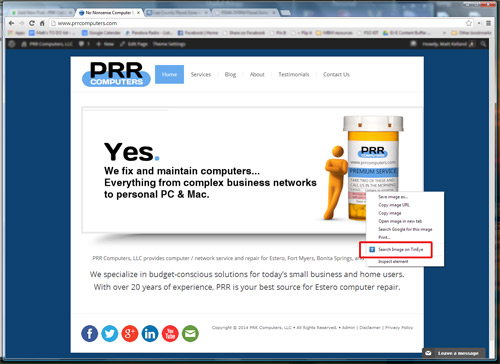 Protecting your own work
TinEye isn't just for protecting the rights of the big image libraries. Individual creators and companies can use it too. Check TinEye to see if anyone else is using your images: you can then decide what action to take.
You don't have to resort to legal action. In most cases, a simple email and request to desist will suffice. Alternatively, if it's a small blogger or mom and pop shop, then consider just asking them for a credit and a link back to your site.