WordPress is the world's favorite platform for creating and managing a website. With its extensible platform, the functionality of WordPress can be greatly enhanced and expanded through the use of themes and plugins.
Here are 8 must-have WordPress plugins for 2021.
*Disclosure: We only recommend products we would use ourselves and all opinions expressed here are our own. This post may contain affiliate links that at no additional cost to you, may earn us a small commission. Read full disclaimer here.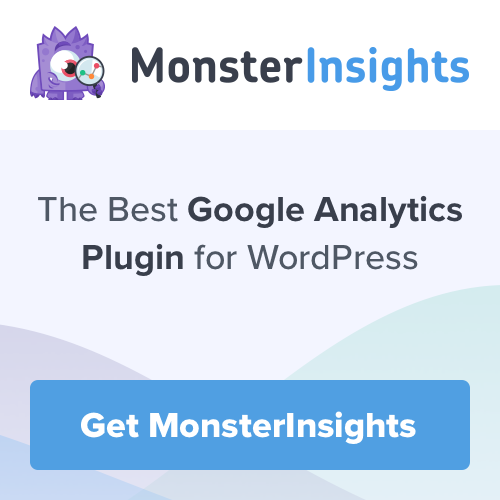 There's no sense having a website if you can't measure how it performs. And why do that measurement on the separate Google Analytics website when you can track things right inside your WordPress dashboard, where you're ready to take action on the insights provided by those stats?
MonsterInsights is the most powerful and most user-friendly WordPress analytics plugin on the market. Over 2 million active websites are using the plugin, making it the most popular plugin in its category. You can setup Google Analytics on your WordPress site in minutes, without writing a single line of code, and start getting insights about how people find your website and use your website.
Try MonsterInsights today for the best Google Analytics experience available for WordPress.
There's no doubt about it: websites, big and small, are targeted by bad guys for all sorts of nefarious purposes. Securing all the aspects of WordPress can be intimidating, but iThemes Security Pro makes it easy.
Presenting security tasks in a to-do list format, you can easily lock down and monitor your website with just a few minutes of setup time. You don't have to be a web security expert to use this plugin; iThemes Security Pro is built with regular folks like us in mind.
You can even set up Two-Factor Authentication for the ultimate protection of your WordPress logins.
iThemes Security Pro really is the ultimate security solution for your WordPress website.

A WordPress website consists of a set of files as well as a database, and it's just as important to backup your website on a regular basis as it is to backup your computer files on a regular basis. While you'll occasionally find a web hosting company that takes responsibility for your WordPress backups, most hosts do NOT offer this service. The responsibility is on you.
UpDraft Plus is a feature-rich backup platform which can perform custom scheduled backups of your website database and files directly to the cloud file systems you already use. Services like Dropbox, OneDrive, Google Drive, and many more. Configuring these integrations is a straightforward wizard process, and setting up email notifications about your backups is a snap.
There are many website backup plugins out there, but UpDraft Plus is in our opinion the easiest to use and the most reliable.
One of the most valuable things your website can do for you is to generate leads for your business. If you don't have a plugin to assist with this, you're missing opportunities and leaving business on the table.
OptinMonster is a WordPress plugin that helps convert website visitors into subscribers to your email list, so you can follow up with them and turn them into customers. There's no more cost effective way to expand your business and increase your sales than by turning abandoning visitors into revenue.
Click here to see why OptinMonster is the best lead generation plugin for WordPress.
Your website can be a great vehicle for allowing customers to provide you with information, whether you're talking about surveys, registering for a service, or even collecting payment. To turn your website into an information processing machine, forms that engage visitors are essential.
WPForms is a drag & drop form builder plugin used on millions of websites worldwide. It's powerful and user-friendly, comes with a library of pre-built time-saving templates, and has advanced features like conditional logic, workflows, and spam protection to prevent junk submissions.
WPForms has all the features and fields you need to succeed.
If your website has a blog, you might be sitting on a treasure trove of content. Did you know that you can recycle that content?
ReviveSocial is a unique plugin that will automatically feed the content needs of your social media accounts – like your Facebook page or Twitter account, for example – by reposting links from the archive of your website or blog. After all, you didn't invest the time and/or money in writing those articles just to serve you for that one moment in the past, right? Those articles still have value as a way to generate new interest in your business.
Check out ReviveSocial and bring your old content back to life.

Images are an important part of most websites, to present the company in a pleasant way and to help communicate important information. But the speed at which a website loads for your visitors can be negatively impacted by unoptimized (too large) images. WordPress itself does some very very basic optimization at the time images are added, by creating a few different sizes of the image to use in different contexts. But that's the extent of the optimization as of 2021.
That's where Smush really shines. The Smush plugin will go through your WordPress website's entire media library, and perform extra optimization on all your images and some other files as well. It's easy to use, and has advanced features like "lazy loading" to fully optimize your website's load time.
Check out Smush today and let us know in the comments below how much image space you saved with Smush.

Search Engine Optimization is a cost-effective way of improving the search ranking for your website. The better your search ranking, the easier it is for people to find your website in Google or other search engines.
Yoast SEO is a full featured SEO management plugin which helps you optimize each page and post on your WordPress website through a series of tips and real-time analysis of the content versus best practices. Like the popular tool Grammarly, Yoast SEO helps you sculpt your content for the best readability while also optimizing for the keywords you want to target.
There are lots of SEO plugins out there, but Yoast as been at it a long time and it's our hands down favorite SEO plugin for WordPress.
Wrap Up
We've covered 8 must-have WordPress plugins for 2021. Did we miss any plugins that you consider "must-have"? Let us know in the comments below.